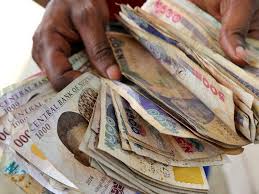 New Naira Notes: CBN, NOA remind Nigerians of 31st January deadline
Tamarauemi Ebimini
The National Orientation Agency (NOA) in Niger in collaboration with the Central Bank of Nigeria (CBN) has sensitised residents of Niger state to the need to deposit their old notes in the banks before the 31 January deadline.
The News Agency of Nigeria (NAN) reports in Minna on Friday that the sensitisation was being carried out across the 25 local government areas of Niger.
Yahaya Gbongbo, acting state director of the NOA, said that the sensitisation rally was to enlighten people to come to terms with government policy on the redesigned naira notes of N200, N500 and N1,000.
"This is to remind the people that those who still have the old currency should take it to the bank and those in villages who don't have account, we have what is called money swap arranged by CBN.
"The money swap agent will give them 10,000 of new notes and account will be opened for the person and the remaining balance will be deposited instantly for them.
"It is a move toward e-banking because a lot of money is in circulation.
"Government come up with this policy to withdraw fake currency in circulation and improve the country's economy," he said.
Mr Gbongbo added that the sensitisation was to let people know that "the deadline is real and that they should not wait and relax till dying minutes before taking their money to the bank".
Also, Ademola Mohammed, the branch controller of CBN in Niger, said that the apex bank was collaborating with NOA as the mouthpiece of the federal government to take messages of any policy of the government to the nooks and crannies of the country.
Mr Mohammed explained that one of the reasons for the redesigned new notes was to tackle fake naira notes in circulation.
He said that the sensitisation was to let people know that Jan 31 is still the deadline for use of the old notes.