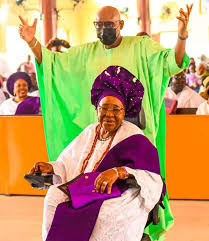 Abodi describes Lady Evangelist Akeredolu as a woman of grace and substance , commiserates Gov Akeredolu on mother's demise.
– Steve Ovirih.
Abodi of Ikaleland and first class Ondo state Monarch, His Imperia Majesty, Oba George Babatunde Faduyile has noted that Late Lady Evangelist Grace Akeredolu was a great woman of grace and substance who demonstrated a high level of sacrifice in the upbringing of her children , and whose work in the Lord's vineyard was meritorious and commendable.
The revered Ikale monarch gave this indication in his condolence statement addressed to Ondo State Governor, Arakunrin Oluwarotimi Akeredolu , commiserating the Governor , his siblings and the entire Akeredolu dynasty of Owo kingdom over the death of their matriarch, Lady Evangelist Grace Akeredolu.
Oba George Faduyile in his condolence statement to Ondo State Governor , a copy of which was obtained by thepolity. net counseled Gov         ,
.      to take solace in the fact that he and his siblings survived their aged mother, whose motherly impact is noted in their obvious achievements and successes in their respective endeavours .
The Abodi of Ikale said the Governor's mother left a good legacy and she was not all about secular achievements alone, as she also contributed to the growth of God's Gospel as an Evangelist and a solid devotee in her church, who did help to spread God's word.
Oba Faduyile added that Late Evangelist  Akeredolu benefitted from God's grace of longevity and her children have also received God's benevolence to survive their aged mother.