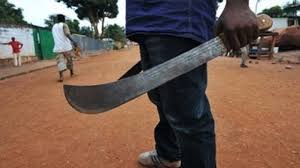 Driver beats doctor with cutlass over son's death
Tamarauemi Ebimini
A commercial driver whose identity is yet to be ascertained has allegedly used cutlass to inflict injuries on a medical doctor over the death of his five-year- old son.
The incident, which happened at the Mother and Child hospital, Oke aro, Akure, reportedly paralysed activities at the hospital.
An eyewitness said the man used the cutlass to beat one of the nurses on duty and inflicted severe injuries on her.
The attack, according to the witness, said staff and patients in the hospital ran for safety
"Immediately the man came in with the child, all the nurses on duty came to his rescue and the child was admitted and was put on life support even without paying a dime.
" The father of the child was later told to pay the sum of N8,000 but unfortunately during that process the child gave up."
Another source said the children has been but that thr parents opted to use self medication and traditional means.
"What then prompted them to rush him to the hospital for treatment at the eleventh hour was yet to be determined
One of the staff of hospital who  pleaded anonymity said the stomach and the scrotum of the late child was swollen at the point of admission.
It was gathered that the suspect went away with the remains of his child after the police failed to arrest him.
Ondo Police spokesman, SP Funmilayo Odunlami Omisanya, could not be reached as at press time.