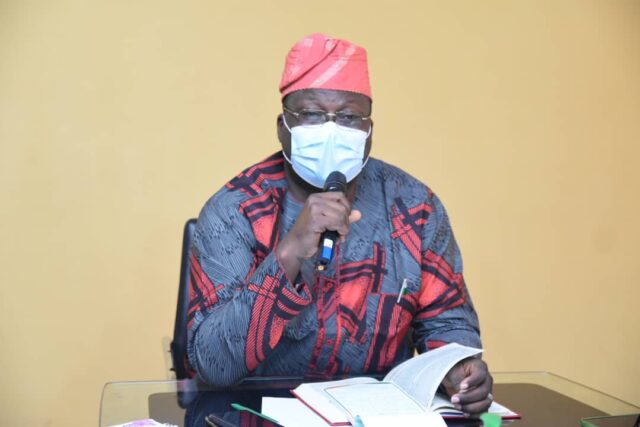 Faduyile hails Akeredolu's establishment of UNIMEDTH, promises govt's plan to rejuvenate facility.
– Admin.
A special commendation has gone out to the Ondo State Governor, Arakunrin Oluwarotimi Akeredolu, SAN , for putting up the University of Medical Sciences Teaching Hospital Complex in 2019 to make UNIMED a full fledged Medical Sciences University.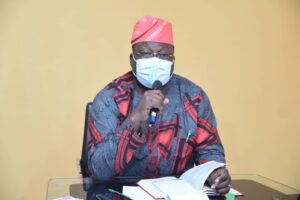 Giving this commendation was The Special Adviser to Ondo State Governor on Health, Prof. Francis Adedayo Faduyile. He made this known while hosting members of the Management Team of University of Medical Sciences Teaching Hospital who paid him a courtesy call in his office.
Prof. Faduyile who himself is an academic at Lagos State University College of Medicine (LASUCOM) told his audience that the Teaching Hospital will be given a face lift by the state government so as to engender quality service delivery. " We must appreciate Gov. Akeredolu who approved the release of necessary funds for the operation of the Teaching Hospital and as a way of showing appreciation, all hands must be on deck to make sure that the facility performs optimally, " Faduyile noted.
He noted with delight that UNIMEDTH has trained quite a good number of Junior Resident Doctors who have become specialists , stressing that Ondo State Government will continue to do everything within its means to ensure that the University becomes one of the best in line with global practices.
In his remark , Chief Medical Director (CMD) UNIMEDTH , Prof. Oluwole Ige maintained that the challenges bedeveling the Teaching Hospital are not insurmountable , adding that the management solicits more of government support in the Teaching Hospital.
Prof. Faduyile while promising them of goverment's attention in their area of needs called for stronger collaborations between the hospital and the Office of The Special Adviser to the government on Health , noting that regular interactions will provide a template for need and performance assessment.
In a related development, Prof . Dayo Faduyile has met with the Executive Members of the Ondo State Chapter of the National Association of Nigerian Nurses and Midwives ( NANNM) in his office .
At the meeting , the Ondo state Chairman of NANNM , Mr. Kehinde Olomiye expressed the Goodwill of the Association , congratulating Prof. Faduyile on his appointment as a Special Adviser to the Governor on Health. Olomiye averred that the Professor of Forensic Medicine merited the appointment based on his exemplary leadership qualities and his enviable antecedents in public service which is quite obvious for all to see.
The NANNM leader in Ondo State assured the Ondo State Government of the continued support and cooperation of nurses in the state in their bid to foster growth in the health sector of the state economy.
Prof. Faduyile who appreciated the leadership of NANNM in Ondo State reiterated his commitment to running an open door policy while assuring them he will welcome views and suggestions from all health stakeholders in Ondo State.