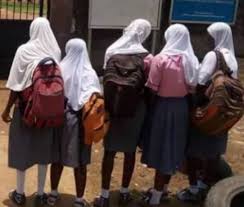 Muslim Students urge Lagos to issue circular on supreme court ruling.
– Tamarauemi Ebimini.
The Muslim Students Society of Nigeria(MSSN) has urged Lagos State government to issue a circular on the recently delivered judgement by the Supreme Court approving the use of hijab in Lagos schools.
The students, who gave the ultimatum during a press conference urged the government to caution its officials against harassing Muslim females wearing the hijab.
The president of MSSN, Lagos chapter, Miftahudeen Thanni, explained that issuing the circular would curb overzealous teachers and principals from contempt of court.
It would be recalled that after about 10 years of legal tussle, the Supreme Court on Friday, June 17, 2022, approved the wearing of hijab by female Muslim students to school in Lagos state.
Miftahudeen said: "when the Lagos State government issued the circular, we thought relief had come, but it is utterly unfortunate that some school authorities and some defective teachers are working against the circular. They are interested in ultimately jeopardising law and order.
Instead of obeying the circular, some school principals, vice-principals and teachers feign ignorance of the approval of Hijab in Lagos State, and desperately began to deal with our members".