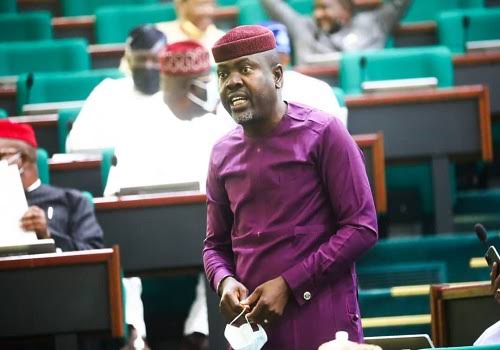 Democracy Day Celebration: Nigeria is in crisis mode, Hon . Kolade Akinjo thunders .
– Steve Ovirih.
A frank assessment of the state of the nation has been given by a federal Law Maker , Hon. Victor Kolade Akinjo, Member House of Representatives , representing Ilaje /Ese Odo Federal Constituency, and his conclusion is that there are lot of crises in Nigeria that call for the citizens' concerted efforts to tackle more than the festivity of a Democracy Day Celebration.
He noted that to celebrate Democracy Day is fit and proper but it calls for a sober reflection as things are not yet working fine for the Nigerian Democratic space.
Hon. Akinjo who visited his constituents in Ilaje / Ese Odo to appreciate them over their voting strength and support which returned him as the flag bearer of People's Democratic Party, PDP in the just concluded party's primaries , said the Nigerian political class should appraise the issues in the polity with a desire to solving the national questions on security , restructuring , infrastructural development and true federalism.
Akinjo who fielded questions from the polity. net said an average Nigerian politician should not be concerned about their personal interests all of the time, stressing that this too is part of the problems confronting the system. He said politics of self agrandisement is a challenge to political development of Nigeria and that is more reason the country is not growing.
" The rate at which the dollar exchange rate is galloping is an eye opener and a pointer to the fact that our economy is in crisis . It is failure of governance if you find out what you can buy just yesterday for a certain amount of money , same amount can no longer buy it.
" How do we stem the tide? It is by putting into government capable hands not politicians who are hungry for power for power's sake and if we get it wrong again , it will tell terribly on the nation's economy, " Akinjo emphasised.
" You will agree with me there is a method in which security has broken down in this country. Nowhere is safe again! The unknown gunmen, outright terrorists are now making inroad into our state. They are emboldened because of the obvious failure of intelligence gathering and outright failure of security. I commiserate with Ondo State Governor , Oluwarotimi Akeredolu and the entire good people of Owo over the act of banditry at St. Francis , Owo. The killing is quite unfortunate ; if the gunmen can be so bold as to invade a place of worship , where is safe? " Akinjo pondered.
He said it used to be a pocket of terrorist activities but now it's three a dime in the polity. " These are the issues our politicians should engage and brainstorm a solution on ; the polemics on campaign should address the crisis mode the nation has found itself not attack on personality or all those far fetched promises that are ditched out to bamboozle the electorate, " said Hon . Akinjo.
He said in Ondo South there has not been electricity for years, noting that the power outage has put the people in economic disadvantage. " How do you describe crisis more than that? How can the power distribution company cut off an entire district from the grid and you say that is not crisis ? As a Rep member I have taken steps in this regard, which is obvious to my constituents but the government of the day has the final say on power because it is on the exclusive list. The more reason we are clamouring for a genuine government of the people for the people where amenities can go round the masses , where the economy will not be skewed to favour the few elite at the expense of the poor and suffering masses, where basic health can go round and where road construction can cut across for the people in the hinterland to benefit from. "
Asked how far he has made his constituents to benefit as their Representative at the Green Chamber, Hon Akinjo said he has not shirked his responsibility and when he is returned by his constituents ' votes in the 2023 General election , he would become a top ranking Member of the House with more fledging opportunities to adequately impact positively on the life and welfare of his people.
" I am doing a road construction project in Ilaje and the gains are for my people . You will agree with me that road is a challenge in my terrain and this has prompted me to be fixated on this road construction project. My people will bear me witness that bills have been sponsored to fast track development in my area and of course a lot of these legislative contribution are work in progress, " Akinjo added.
He noted that Democracy as Nigerians benefit from it today is a pointer to the sacrifice of key players of The June 12 ,1993 saga, hence the contributions of the mandate owner of June 12 ,1993 election , Chief MKO Abiola and others like him will not be forgotten in a hurry.
" That is the more reason we should make things count positively for the masses in whatever position we hold as key players in the nation's politics, " Akinjo stressed.